Zacahuil tamales, with their distinctive yellow-orange color and subtly sweet flavor, are one of the most well-known of the tamales.
What's more, they're a great choice if you want to give your body some extra help in getting all of the nutrients it needs in order to function properly. If you're ready to learn how to make Zacahuil tamales, then keep reading!
Zacahuil tamales are an authentic dish and are typically made during the Christmas season. They can be eaten at any time, though, and they're especially delicious on cold winter days or when you want to add some spicy flavor to your meal, like when you're making tacos or enchiladas.
What is Zacahuil – Veracruzanos Tamales
Zacahuil is a meal from the Huasteca region, which includes the states of San Luis Potosi, Veracruz, and Hidalgo. Shortcrust pastry, lard, Chinese chili, rattlesnake, and pig or turkey are all used in the same way in all three states.
It's a dish that incorporates a variety of Mesoamerican culinary techniques, such as the use of nixtamal, the preparation of moles or sauces for the filling, and cooking underground with firewood and hot stones. Zacahuil is renowned in Mexico as "the Tamale of Tamales" or "Party Tamale" since it is the world's largest tamale feast. It's usually reserved for big social gatherings and festivities.
These tamales are huge, reaching 5 feet in length and weighing up to 50 pounds. To create tortillas, you use a different masa than you would for tamales. The masa for tamales, as well as the masa for Zacahuil, is coarser. In fact, the masa used in this monster is much coarser, practically granulated. The texture should resemble couscous or cooked broken rice grains. This tamal's "filling" isn't in the middle; rather, it's mixed in with the masa to ensure that everyone gets a taste.
Zacahuil is an ancient ethnic dish that predates the arrival of the Spanish in Mexico by hundreds of years. The basic recipe calls for ground corn, a variety of dried chili peppers (such as guajillo, ancho, and cascabel), chicken or pork (or both), salt, and spicy sauce. Zacahuil is made using seafood in various parts of Mexico. The tamale is wrapped in banana or papatla leaves, knotted, and roasted for 8 to 12 hours in an adobe oven.
It's critical to tie the dough tightly so that it doesn't spread and takes the shape you want. Additionally, the filling must be evenly distributed so that no holes of pure dough remain.
It is placed in a texcal oven and covered with bricks and mud to concentrate the heat. After the hours are up, it's taken off the fire, the cooking is checked, and that's it.
Zacahuil Recipe Facts
Recipe
:
Zacahuil Recipe
Category
:
Dessert
Cuisine
:
Mexican
Author
:
LHH Food
Preparation Time
:
Cooking time
:
Ingredients
:
Ingredients list here
Instructions
:
Click to go to process
Servings
:
5
Average rating:

4.8

of 5.0 from

127

reviews
Tags
:
zacahuil, zacahuil recipe, zacahuil food, how to make zacahuil, zacahuil recipe video, easy method of making zacahuil, video on how to prepare zacahuil, tamales, mexican zacahuil, how to prepare zacahuil, zacahuil instructions video, zacahuil recipe methods, zacahuil recipe tips, zacahuil recipe pictures, zacahuil food photos, zacahuil step by step instructions, zacahuil cooking methods, zacahuil methods, zacahuil cooking directions
About
:
Zacahuil recipe guide. Mexican giant Zacahuil tamales. Learn how to make your authentic food, zacahuil.
Zacahuil Ingredients List
1 dried ancho chile pepper

1 dried chipotle chile pepper

Vegetable oil

2 tablespoon all-purpose flour

chicken broth

1/4 cup canned fire-roasted crushed tomatoes

2 tablespoons chopped fennel leaves

2 cups finely chopped cooked turkey

1/2 cup lard

1 teaspoon baking powder

2 cups masa harina

1/4 cup ground blanched almonds

Banana leaves

Salt
Zacahuil recipe step by step
Filling: Toast ancho and chipotle chile peppers in an oiled medium skillet over medium heat, stirring frequently, for 4 to 5 minutes, or until aromatic. Allow time for cooling.

Remove the stems, seeds, and membranes from the peppers. Reduce the size of the peppers by chopping them into smaller bits. In a spice grinder or a clean coffee grinder, grind the pepper pieces. Pulse until the mixture is finely ground, then cover and set aside. Take it out of the equation.

In the same skillet, heat the vegetable oil over medium heat. Heat the flour in the oil, stirring regularly, until it turns light brown. Over medium heat, cook and stir until the broth and tomatoes are well combined. Add the fennel or hoja santa leaves. In a mixing bowl, combine the turkey and ground chili peppers.

Zacahuil Dough: Cream the lard and baking powder together in a large mixing basin on medium speed for about 2 minutes, or until smooth. In a medium mixing bowl, combine masa harina, almonds, and salt. Whisk the masa mixture and broth together in a separate bowl until the mixture resembles a thick creamy paste.

To prepare each tamale, place about 2 tablespoons of tamale dough in the center of a 4×3-inch banana leaf rectangle, so that the dough's long sides run lengthwise on the banana leaf. Pour one tablespoon of the filling down the center of the dough rectangle. By bringing a long edge of the banana leaf across to the other side of the filling, roll up the layers. (Squeeze the pieces of split banana leaves together to hold them together.) Twist or tuck the leaves' ends beneath. To bind twisted ends, use banana leaf strips or 100 percent cotton kitchen string.

To steam tamales, lay them vertically in a steamer basket in a big tamale pot. Rather than packing the tamales too tightly, fill the space between them. Pour at least 1 1/2 inches of water into the pan's bottom. Bring to a boil, then turn off the heat. Reduce the heat to a level of medium-low. Steam for 45-60 minutes, or until the dough is spongy and cooked through and has peeled away from the banana leaves.

To serve, transfer the zacahuil tamales to a serving plate. Carefully unfold the tamales before eating. If preferred, serve with salsa.
Zacahuil food images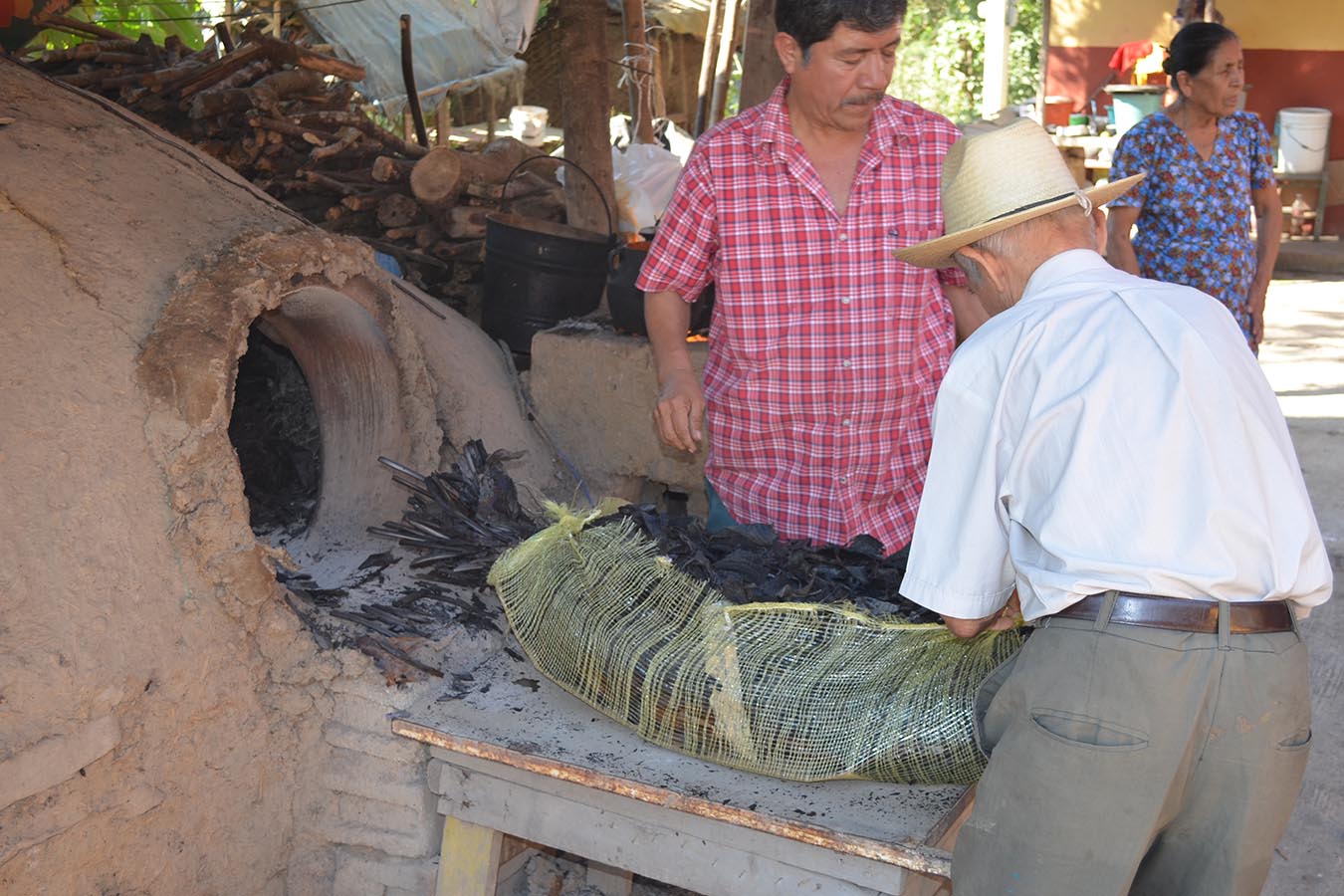 Video on How to make Zacahuil
Watch the video know-how of Zacahuil. Have a audio-visual clue and in depth explanations on how to make zacahuil. Below is the video on how to prepare zacahuil.
Video Title:
How to make Zacahuil
Learn how to make zacahuil. Mexican largest tamales. This is a video on how to prepare fantastic zacahuil.
How to make Zacahuil, endnote
Zacahuil tamales are a type of tamale from the Yucatán region of Mexico, which, despite what you might think, isn't all that close to the Mexican state of Zacatecas, after which it's named. Zacahuil tamales are often shaped like the leaves of the banana tree they're made from and filled with chicken, pork or fish, as well as chaya leaves and olives.