Mojarra frita is a seafood dish, commonly found in the southern coastal areas of Venezuela and Columbia, as well as many parts of Central America, but it's not exclusive to these countries or regions. The literal translation of the word mojarra in Spanish means river fish, and frita means fried, so mojarra frita literally translates to fried river fish in English.
Mojarra frita, or fried fish, is a Colombian dish that you can't miss out on tasting. It's one of the more traditional dishes that you can find on the island, and people from all over the world come to Colombia just to try it. It's so delicious that once you taste it, it will become your favorite dish too! Learn how to make mojarra frita at home with this recipe.
Mojarra Frita: What it is?
Mojarra frita (pronounced moe-HAR-rah FREE-tah) is an utterly delicious fish dish that's popular in Colombia, Peru, and Venezuela. Its name comes from the Spanish word mojarra, which means mullet, and the dish itself is prepared by frying the fish until it's crispy outside and tender inside. It can be served alone or with rice and beans on the side and makes for a great filling meal any time of day, whether you want breakfast, lunch, or dinner!
Mojarra fish has a distinct and excellent flavor, and it is frequently served fried to preserve its natural flaky and juicy texture while also providing a crisp exterior. The fish is frequently served with fried plantains, fried flaked plantains, salt cod, and boiling cassava as a side dish.
The mojarra frita is also a traditional Easter or Lent meal, when those who believe in or follow traditions abstain from eating red meat in favor of fish.
The word "mojarra" refers to a group of saltwater fish (Gerreidae). However, in Latin America, the term is also used to refer to freshwater cichlids, such as tilapia. Tilapia and saltwater mojarra are quite similar in appearance and size.
They're named mojarras because the fish's body resembles a large shoe, or mojarra in Spanish. This fish has a terrific flavor, especially when fried. It is a tasty fish known for its oily and smelly flesh.
Mojarra is one of the most popular cuisines on the coast, with tourists and residents alike coming to the same country's beaches. It was well-received and devoured, and it satisfied even the most discerning palette.
Mojarra in English
So, what exactly is a mojarra? From a Spanish perspective, Mojarra literally means "two-banded sea bream," usually found in shallow water.
Mojarra can also refer to a tuna fishing boat. Some people mistake mojarra for tilapia, which it is not.
Mojarra Frita Recipe Facts
Recipe
:
Mojarra Frita Recipe
Category
:
Appetizer
Cuisine
:
Colombian
Author
:
LHH Food
Preparation Time
:
Cooking time
:
Servings
:
5
Average rating:

4.9

of 5.0 from

557

reviews
Tags
:
mojarra, mojarra frita, mojarra frita recipe, fried mojarra, mojarra fried fish, how to make mojarra frita, recipe video, easy method of making mojarra frita, video on how to prepare mojarra frita, how to prepare mojarra frita, mojarra instructions video, mojarra recipe methods, mojarra recipe tips, mojarra recipe pictures, mojarra food photos, mojarra step by step making, mojarra frita cooking methods, mojarra methods, mojarra frita cooking directions
About
:
Mojarra frita recipe guide. Mojarra frita has a unique and delicious flavor and is often served fried. Learn how to make your mojarra.
Mojarra Frita Ingredients
1 mojarra, medium size

1 teaspoon of garlic salt

4cloves garlic

lime peel or lemon juice

1 litre of vegetable oil

Flour

Black pepper

1/2 Tsp Achote paste

Onion

Curry powder, dried thyme (optional)

Fresh Rosemary (optional)
How to make Mojarra Frita
In a skillet, heat the oil. To dip the fish, use a deep skillet.

Clean and dry the mojarra by opening it. After properly cleaning your fish, pat it dry with paper towels to absorb any remaining water (you don't want any water on the fish).

Cut the mojarra in half diagonally and shallowly.

Season with salt and pepper after marinating. Season to taste, including with achote paste if preferred (optional).

Dredge in flour.

In a skillet with oil, add the garlic and lime peel or lemon.

Sauté the mojarra on both sides for about 12 minutes or until thoroughly done in a saucepan or skillet with enough oil blazing hot.

To drain excess oil, place fried mojarra in a colander and pat dry with paper towels, napkins, or any absorbent paper.

Serve fried mojarra with parsley-garnished baked potatoes.

Make sure the fish is completely dry before frying it to avoid splattering oil.
Recipe Video: How to make Mojarra frita
Video Title:
How to make Mojarra
Learn how to make mojarra frita. Mojarra fish has a unique and delicious flavor and is often served fried.
Mojarra frita dish pictures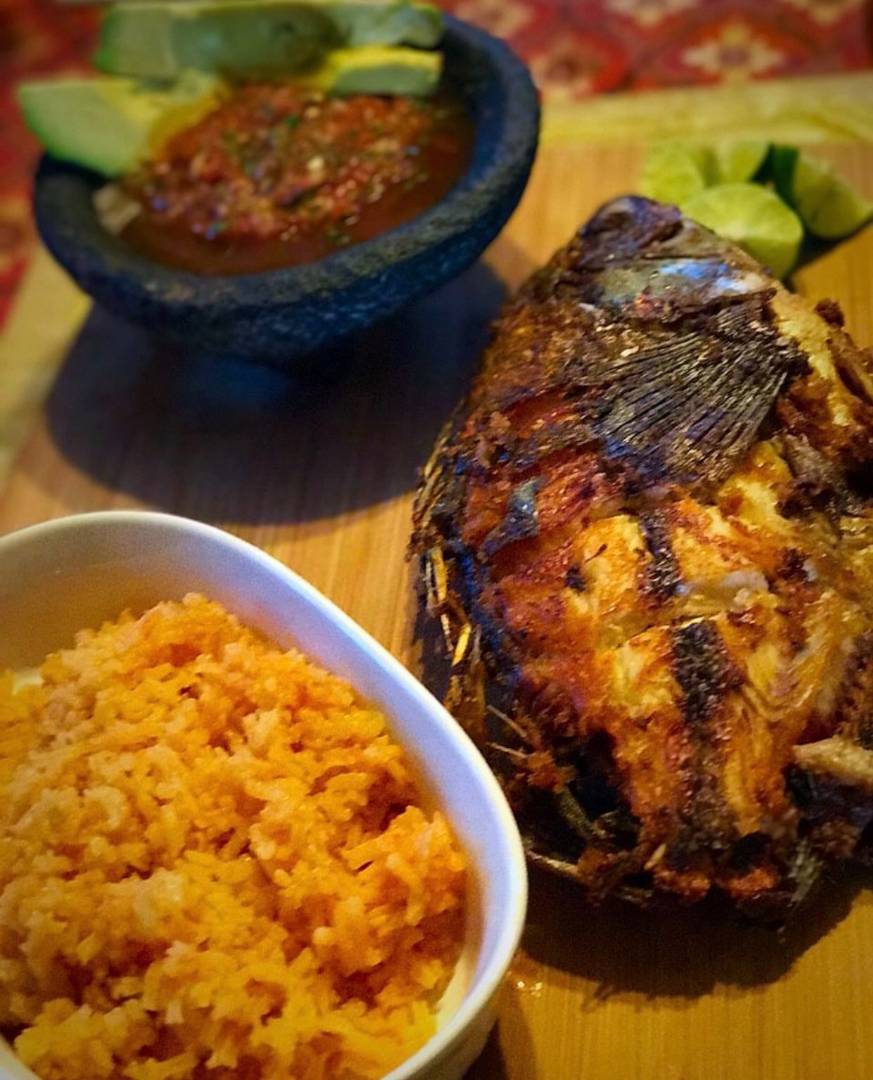 Mojarra frita, endnote
Mojarra frita (literally, fried fish) is also one of Puerto Rico's most beloved dishes, and if you grew up eating it, there's no way you can eat it at any restaurant without comparing it to the home-cooked version—and usually, it doesn't measure up. Here's the good news: Mojarra frita is one of the easiest dishes to make from scratch and one of the few that gets better with time, so you can make it ahead of time for a party or special event or even do your own fish fry at home!