Choriqueso recipe step by step instructions, list of choriqueso ingredients, easy choriqueso food directions
Choriqueso (also known as queso fundido or queso flameado) is a Mexican cheese dip topped with cooked chorizo sausage and cilantro and served with chips or hot tortillas. It's a fantastic appetizer or perhaps a complete meal on its own.
Choriqueso is not just any kind of queso dip, it's an authentic dip from the Mexican city of Chihuahua that has been popularized in the US over the last few years by restaurants like Rubio's and Moe's Southwest Grill and even Taco Bell, who offer their own version under the name Queso Fundido. The best thing about Choriqueso? You can make it yourself at home in just a few easy steps!
What is Choriqueso?
Choriqueso is the result of combining chorizo, a spicy, loose Mexican sausage, with queso, the Spanish word for cheese. It's a skillet dish that may be wrapped in soft, warm tortillas or dipped in crisp tortilla chips.
Choriqueso is a Spanish word that means "flamed cheese." It's also known as queso flameado, "melted cheese," or queso fundido.
It is a flambé dish made with spicy chorizo and hot melted cheese. It's a party dish similar to cheese fondue that's offered as an appetizer at cookouts and restaurants. This dish, which is nearly unique in Mexican cuisine, has been widely adapted in American cuisine and is considered a native food of El Paso.
Choriqueso is made up of melted cheese and a characteristic meat sauce made up of loose fresh chorizo, tomato, onion, chile, and spices. It's baked in a shallow casserole or other heat-resistant ceramic or metal baking dish that's compact.
Both the cheese and the meat sauce are prepared just before serving and served hot. Other melting cheeses (cheeses that stay stringy when melted, such as whole milk mozzarella) can be used instead of Oaxaca and Chihuahua. Some people believe stringy cheese is required for this recipe, however if you don't want to use stringy cheese, a fresh farmer's cheese or goat cheese would suffice. If fresh chorizo isn't available, you can substitute dried chorizo or another sausage.
The choriqueso cheese and sauce are prepared separately and combined just before serving. This can be done at the table, particularly if the meal is finished with a flambé, in which a high-alcohol liquor is poured over the cheese and ignited, and the server folds in the sauce as it burns. The mixture can be broiled quickly if it hasn't been flambéed. In any event, while the final dish is still hot, it is spooned onto little soft tortillas for individual servings.
Choriqueso Recipe Facts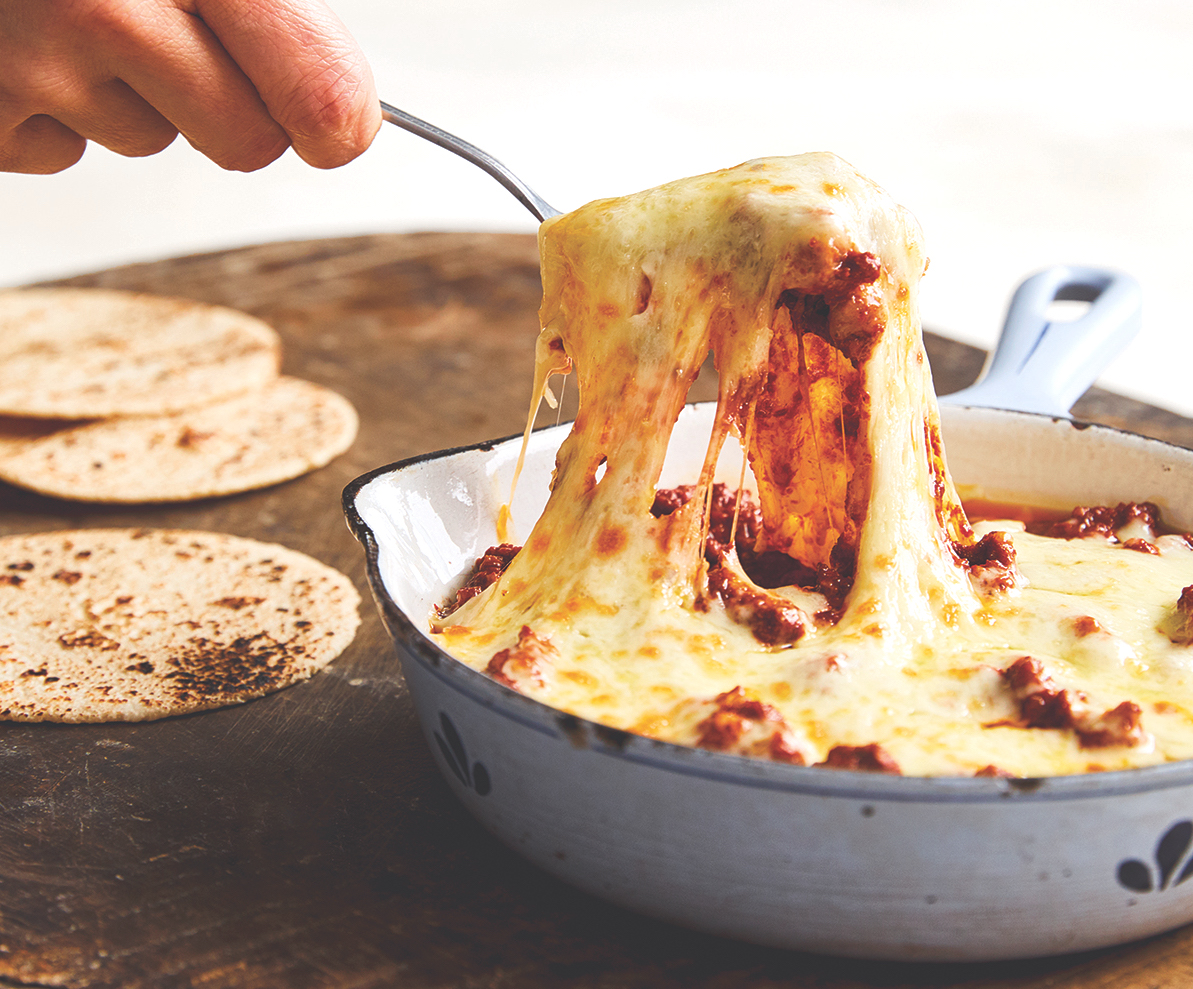 Recipe
:
Choriqueso Recipe
Category
:
Appetizer
Cuisine
:
Mexican
Author
:
LHH Food
Preparation Time
:
Cooking time
:
Ingredients
:
Ingredients list here
Instructions
:
Click to go to process
Servings
:
4
Average rating:

4.9

of 5.0 from

659

reviews
Tags
:
choriqueso, choriqueso recipe, choriqueso food, how to make choriqueso, queso fundido, queso flameado, queso fundido recipe, queso flameado recipe, choriqueso recipe video, easy method of making choriqueso, video on how to prepare choriqueso, how to prepare choriqueso, choriqueso instructions video, choriqueso recipe methods, choriqueso recipe tips, choriqueso recipe pictures, choriqueso food photos, choriqueso step by step instructions, choriqueso cooking methods, choriqueso methods, choriqueso cooking directions
About
:
Choriqueso recipe guide. Spicy, cheesy, melty Choriqueso. Learn how to make your authentic food, choriqueso.
Choriqueso Ingredients List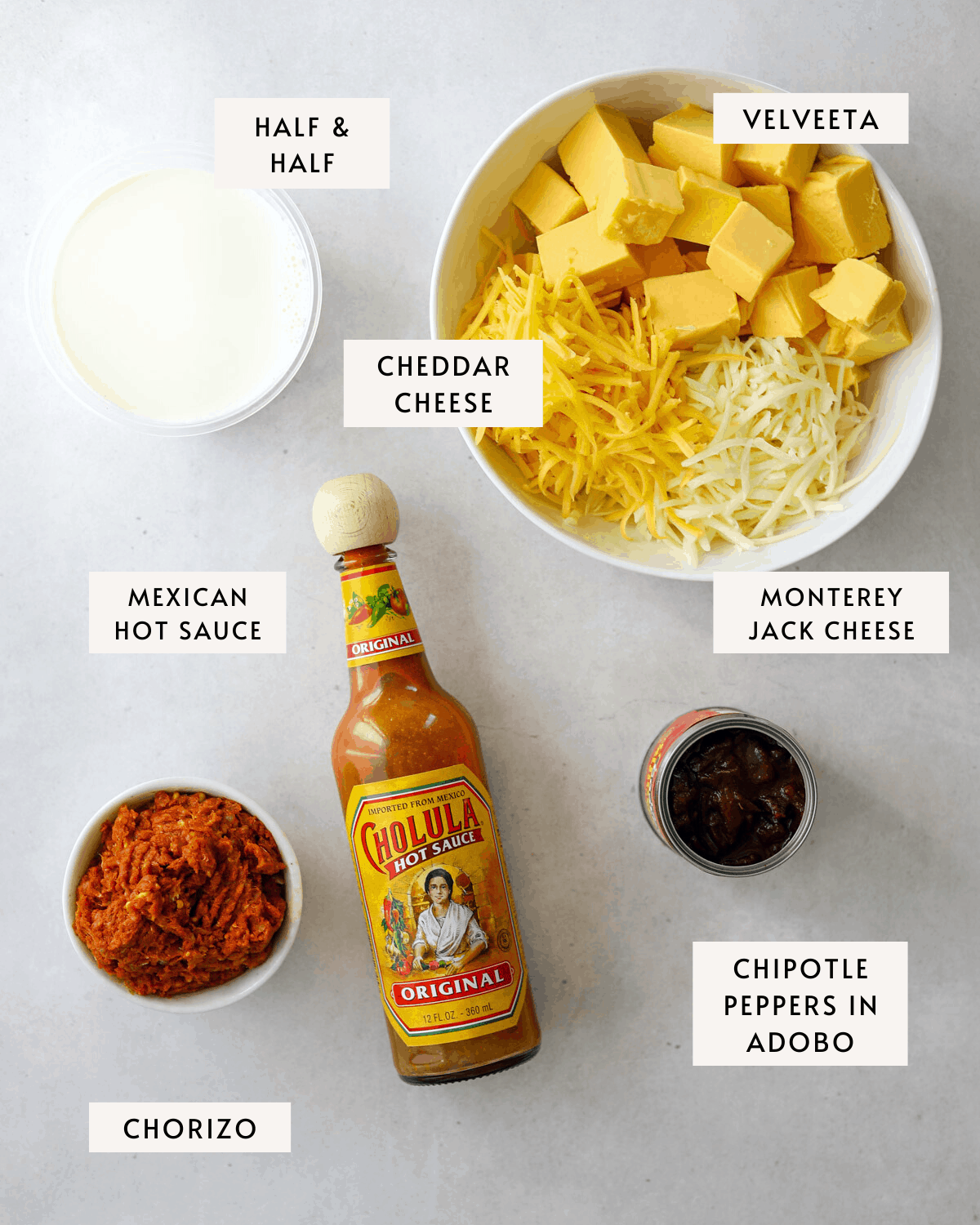 1/2 pound ground pork

2 teaspoons red wine vinegar

1/4 teaspoon powdered cinnamon

1 teaspoon paprika

1/2 teaspoon dried oregano

1/8th teaspoon ground cumin

1/8th teaspoon cayenne pepper

1 medium clove garlic, grated on a microplane grater

1 teaspoon kosher salt

1 tablespoon vegetable oil

3/4 pounds grated queso Oaxaca, Monterey Jack cheese, or low-moisture mozzarella cheese

Warm corn or flour tortillas or tortilla chips for serving
Choriqueso recipe step by step
Preheat the broiler to the highest temperature.

Combine the pork, vinegar, cinnamon, paprika, oregano, cumin, cayenne, garlic, and salt in a medium mixing bowl. Using your hands, thoroughly combine the ingredients.

Heat vegetable oil in a 10-inch broiler-safe skillet over medium-high heat until it shimmers.

Cook for 5 minutes, stirring with a wooden spoon and breaking up the meat with a wooden spoon until it is no longer pink.

Remove from the heat and season with salt to taste.

Place in the broiler for 5 minutes, or until the grated cheese melts.

Serve immediately with warm tortillas or chips.
Choriqueso food images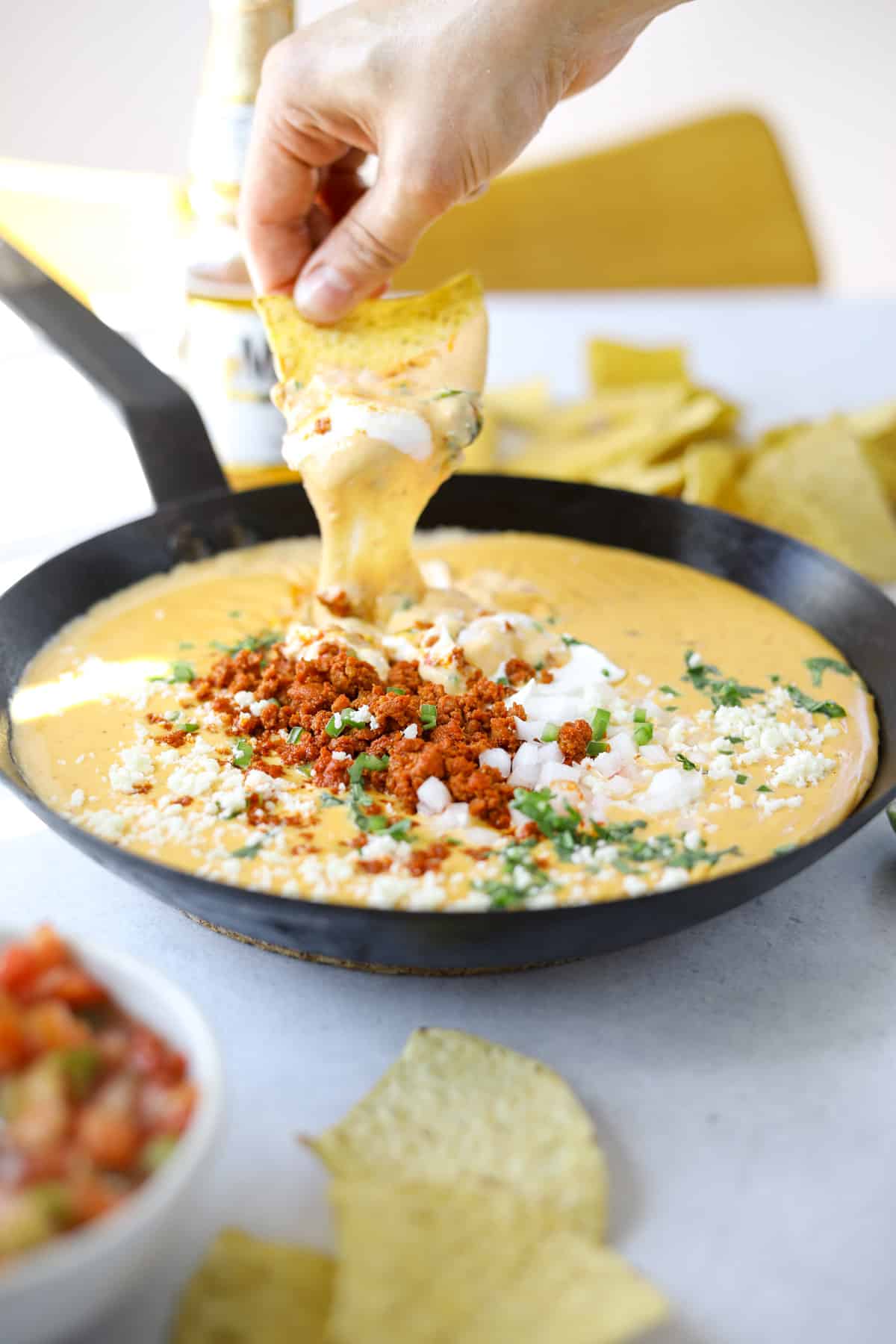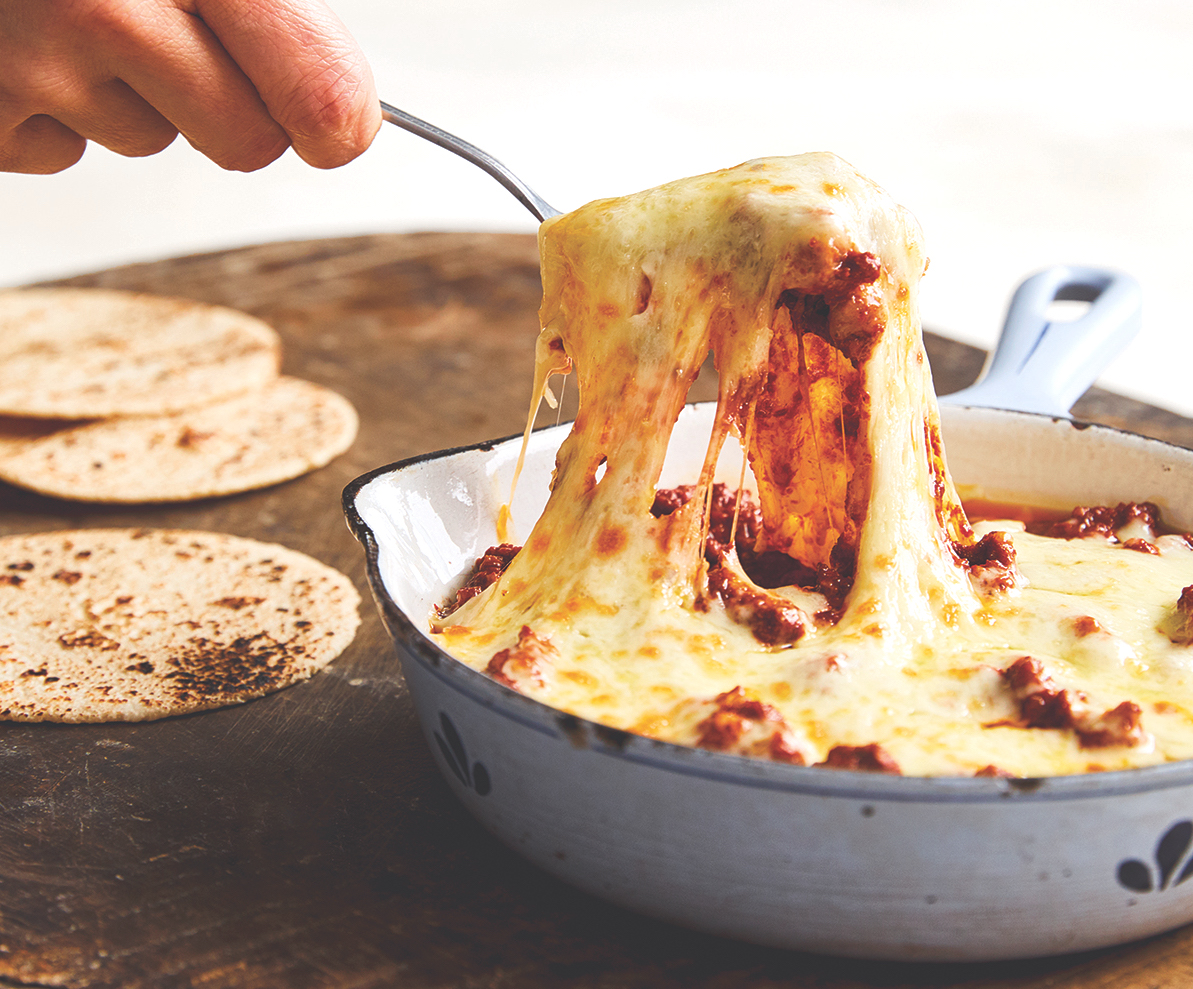 Video on How to make Choriqueso
Watch the video know-how of Choriqueso. Have a audio-visual clue and in depth explanations on how to make choriqueso. Below is the video on how to prepare choriqueso.
Video Title:
How to make Choriqueso
Learn how to make choriqueso. Spicy, cheesy, melty Choriqueso. This is a video on how to prepare fantastic choriqueso.
How to make Choriqueso, endnote
Choriqueso, or chori-queso, (however you choose to spell it), is a Mexican cheese dip that's perfect for snacking on while watching your favorite soccer team or just relaxing with friends and family. It's similar to guacamole in that it has avocado in it, but the main ingredients are nacho cheese, tomatoes, onions, sour cream and Mexican spices like cumin and coriander. While it may not sound like something you'd want to eat before running a marathon, it sure beats plain chips and salsa any day of the week!
The queso (cheese) used to make choriqueso can vary depending on the region of Mexico where it's prepared, but quesillo, mozzarella, and farmer's cheese are popular choices. Choriqueso makes an excellent appetizer or snack any time of year, and it pairs particularly well with any cold beverages during the summertime.