Chofan Learn how to make Dominican Chinese fried rice. Make it and wow your guests with this delicious fried rice recipe.
If you're looking to add some good-for-you, hearty grain to your diet, look no further than chofan, a type of Chinese rice that's easy to prepare and incredibly versatile.
Chofan is a Dominican dish that is similar to Chinese fried rice. This is the best Dominican Chinese fried rice recipe you'll find. Make it and wow your guests with this delicious fried rice with vegetables recipe.
Chinese restaurants are very popular in the Dominican Republic. Many Dominican delicacies have been included into their menus, resulting in an unusual and distinct fusion cuisine.
The exquisite fried rice, on the other hand, is the star of Chinese cuisine. Fried rice is available in a range of flavors and textures. When a Dominican orders "arroz chino," he's asking for a unique type of fried rice with a distinct flavor, chofan.
If you're looking to try something different and exciting for dinner, consider making chofan. This dish blends traditional Chinese ingredients with other flavors and cooking techniques, resulting in rice that's as unique as it is delicious. Read on to learn how to make chofan at home!
Chofan (or chow fan), translated as rice bowl in Chinese, refers to Chinese rice dishes made with rice fried in oil. Chofan can be served either hot or cold and can be eaten with meat or vegetarian toppings.
What is Chofan – Dominican Chinese Fried Rice?
Unlike rice cooked in a pot or rice cooker, chofan rice is flash-fried. It is also known as fried rice or mexican fried rice, and it can be served as a side dish or mixed with other ingredients to create main dishes. By frying uncooked grains of white rice, you can use less oil than you would need when cooking standard stir-fries because each grain becomes its own little vessel for taking in any excess oil left behind by other ingredients and seasonings. This allows you to cook with less oil while still maintaining control over how much oil your dish contains at any given time.
Chofan is a Dominican-style Chinese fried rice dish with a lot of flavor. It's a stir-fried dish made with cooked rice and a variety of ingredients such as eggs, vegetables, fish, or meat that's frequently mixed in a wok or frying pan. It's frequently eaten on its own or as a side dish to other dishes.
Chofan is also referred to by a variety of different names. This meal is also known as Arroz Chino, Chofan, or Chow Fan. The main ingredients in this dish are carrot, egg, peas, and bean. It can be served alone or with another dish such as chicken, pork, or even seafood. Carrot, egg, peas, bean sprouts, chicken, pig, and shrimp are the major ingredients, which are fried in a wok with fat and at a high temperature.
Follow these instructions to make Dominican fried rice chofan: Heat the oil in a wok (or a large saucepan if you don't have one) over high heat. After adding the ham, cook for about 4 minutes, stirring occasionally. Stir in the carrots, then reduce to a low heat for 1 minute.
For about 2 minutes, stir in the onions and peppers. In a large mixing basin, combine the rice, peas, and corn. Make sure there are no clumps of rice left. In a large mixing bowl, thoroughly combine the soy sauce and the remaining ingredients.
In a mixing bowl, combine the cooked chicken, eggs, and green onions. Mix everything together until it's completely smooth. After that, remove the pan from the heat and serve. Serve with a garnish of green onions.
Chofan is a simple dish that can be served both hot and cold, making it suitable for every season. It could also be served as a single dish due to the number and variety of ingredients. However, I always offer it as a side dish with some scrumptious spring rolls in my house.
Chofan Recipe Facts
Recipe
:
Chofan Recipe
Category
:
Appetizer
Cuisine
:
Dominican
Author
:
LHH Food
Preparation Time
:
Cooking time
:
Ingredients
:
Ingredients list here
Instructions
:
Click to go to process
Servings
:
4
Average rating:

4.8

of 5.0 from

542

reviews
Tags
:
chow fan, chow fan recipe, arroz chino, arroz chino recipe, chofan, chofan recipe, chofan food, how to make chofan, chofan recipe video, easy method of making chofan, video on how to prepare chofan, how to prepare chofan, chofan instructions video, chofan recipe methods, chofan recipe tips, chofan recipe pictures, chofan food photos, chofan step by step instructions, chofan cooking methods, chofan methods, chofan cooking directions
About
:
Chofan recipe guide. Dominican chow fan fried rice recipe. Learn how to make your authentic food, chofan.
Chofan Ingredients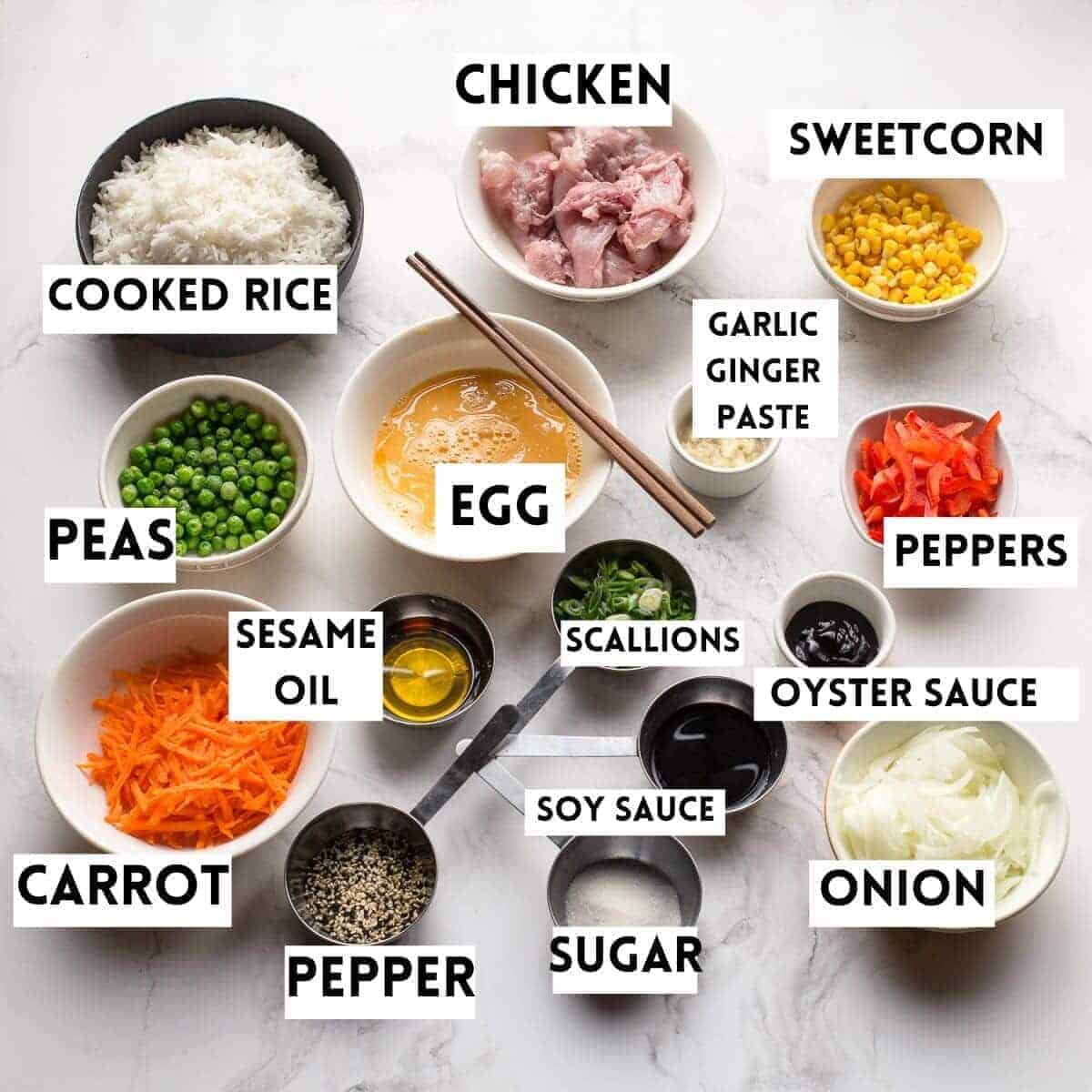 2 chicken breasts

½ lb smoked ham

2 cups cooked white rice

2 eggs scrambled

6-8 garlic cloves mashed

¼ red bell pepper

¼ green bell pepper

1 small onion: red or white

½ tsp orégano

1 carrot boiled & cubed

1 tsp sopita/chicken bouillon cube

2-3 tbs soy sauce

2 scallions

Black Pepper to Taste

Oil

¼ cup Water
Chofan recipe
2 cups water, salt, and oil to cook rice White rice that has been left over might also be used. Once the rice has steamed, set it aside.

Small-medium sized bits of chicken should be chopped.

Use mashed garlic, Dominican or standard orégano, sopita/chicken bouillon cube, adobo, or your favorite seasoned salt to season the chicken. Stir in a pinch of black pepper until everything is thoroughly combined.

In a heated deep sided skillet over medium-high heat, pour in the olive oil.

Every now and then, stir in the seasoned chicken. The chicken should brown slightly but still be well done.

After around 5 minutes, add 14 cup of water.

Add the diced smoked ham and stir thoroughly once the water has evaporated.

Cook for about 5 minutes, or until golden brown, the chicken and ham. Add the onions and peppers after that. sautéing for 1 minute

Add the soy sauce and stir until everything is well combined.

Now add the cooked white rice and gently toss until the soy sauce, chicken, and ham are evenly distributed throughout the rice.

Add the pre-boiled sliced carrots and mix gently to keep the carrots intact after the rice is thoroughly covered. If you want, you can use frozen diced carrots. If you do, sauté and defrost the carrots with the onions and peppers at the same time.

Reduce the heat to low and, in a separate skillet, scramble two eggs.

Once the eggs are fully cooked, fold them into the rice.

Finally, add the scallions and serve immediately!
Recipe Video: How to make Chofan
Video Title:
How to make Chofan
Learn how to make chofan. Dominican chow fan fried rice recipe. This is a video on how to prepare fantastic chofan.
What is Chofan made of?
Chofan is made up of sauteed vegetables, meat, and already cooked white rice, followed by the addition of soy sauce.
What is Chowfan?
A dish of fried rice noodles with green leafy vegetables and tender, thinly sliced beef is called chow fan. Fried eggs, diced chicken breast, and sautéed vegetables like celery, onion, and mushrooms make up the dish known as chow fan. It is wrapped in zingy garlic, fresh ginger root, and soy sauce.
What is Chao Fan?
Chofan, we have the same question. Filipino Chinese fried rice called "chao fan" is made with leftover rice from the previous day, pork, spring onions, green peas, and corn.
Chofan dish Pictures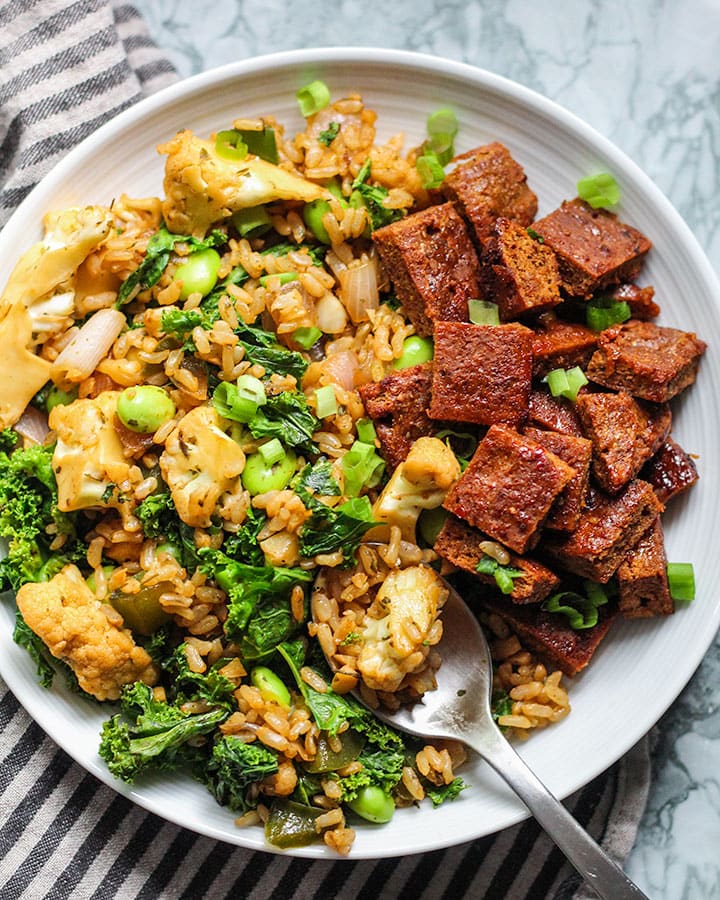 How to make Chofan, endnote
This recipe for chofan is simple and delicious. With just a few ingredients, it's hard to mess up. You can customize it by adding your favorite veggies or protein. It pairs well with brown rice and legumes, but you can serve it with any kind of rice or even on its own as a side dish! Enjoy!
I hope you enjoyed this post on how to make chofan!