Scholarship
Apply: 2023 Chevron Nigeria Undergraduates Scholarship Opportunities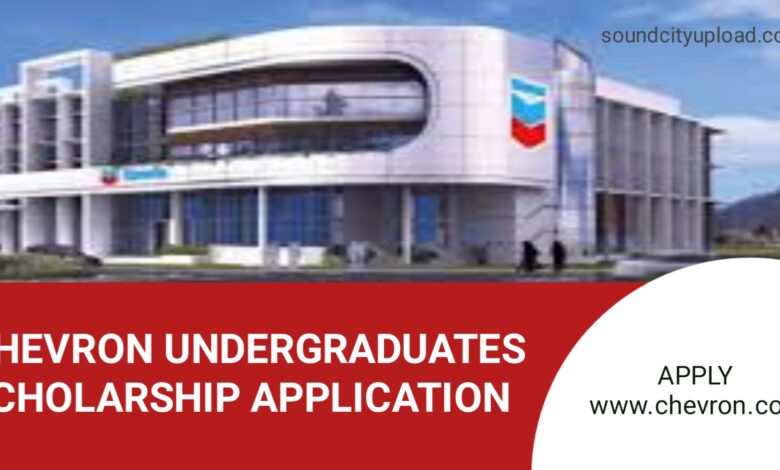 The Chevron Nigeria Undergraduates Scholarship is an annual initiative that seeks to promote academic excellence and nurture talent among Nigerian undergraduates. It is open to students studying various disciplines, including engineering, geology, environmental science, accounting, and more. By offering financial assistance, Chevron Nigeria Limited aims to support the educational aspirations of deserving students and foster a skilled workforce for the future.
Application Process and Eligibility Criteria:
To be eligible for the Chevron Nigeria Limited Undergraduates Scholarship, applicants must meet certain criteria. These typically include being a Nigerian citizen, being enrolled in a full-time undergraduate program at an accredited Nigerian university, maintaining a minimum GPA, and demonstrating leadership qualities. The application process generally involves submitting an online application form, academic transcripts, and other supporting documents. Additionally, applicants may be required to write essays or provide recommendation letters.
Chevron Nigeria Scholarship Application Process
The Chevron Nigeria scholarship application process is a crucial step for Nigerian students who wish to secure the scholarship. Understanding the application process is essential to ensure that you provide all the required information and increase your chances of being selected. Here is a breakdown of the typical Chevron Nigeria scholarship application process:
Eligibility Check: Before beginning the application process, carefully review the eligibility criteria specified by Chevron Nigeria Limited. These criteria may include factors such as Nigerian citizenship, enrollment in a full-time undergraduate program at an accredited Nigerian university, minimum GPA requirements, and specific academic disciplines.
Gather Required Documents: Prepare all the necessary documents required for the application process. These documents commonly include:

Academic transcripts: Provide official transcripts that reflect your academic performance and achievements.
Proof of admission: Submit a document that confirms your admission to an accredited Nigerian university.
Identification documents: Prepare copies of your national identification card or international passport.
Passport-sized photograph: Provide a recent passport-sized photograph that meets the specified requirements.
Letters of recommendation: Some scholarships may require letters of recommendation from academic or professional references. Ensure you obtain these in advance.

Complete the Online Application: Visit the official Chevron Nigeria Limited website www.chevron.com or the scholarship portal https://candidate.scholastica.ng for the current application cycle. Create an account if necessary and proceed to fill out the online application form. Be thorough and accurate when providing personal details, contact information, and academic history. Take your time to craft well-written and persuasive responses to any essay or statement prompts.
Submit Required Documents: After completing the online application form, you will typically be prompted to upload the required documents. Ensure that all documents are scanned or photographed clearly and are in the specified file formats. Double-check that you have included all the necessary documents before submitting.
Review and Finalize: Before submitting your application, review all the provided information and uploaded documents for accuracy and completeness. Make any necessary corrections or additions. Take note of the deadline for submission to avoid missing out on the opportunity.
Application Review and Selection: Once the application submission period is closed, Chevron Nigeria Limited will review the applications received. They will evaluate each applicant based on the specified selection criteria, which may include academic performance, leadership potential, and alignment with Chevron's values. Shortlisted candidates may be contacted for further assessments, such as interviews or additional documentation.
Notification of Results: After the evaluation process, Chevron Nigeria Limited will announce the selected scholarship recipients. If you are chosen, you will receive a notification of your success. Conversely, if you are not selected, you may receive a notification thanking you for your application but informing you that you were not chosen for the scholarship.
Note: Remember to regularly check the official Chevron Nigeria Limited website or the scholarship portal https://candidate.scholastica.ng for updates and announcements regarding the application process and important dates.
Share this with at least three people who you think can benefit from it.
Please leave your questions in the comment section below.