Stuffed Ziti Fritta - How to Make Olive Garden Recipe
Stuffed ziti Fritta might sound like an odd dish, but it's actually one of the most delicious Italian dishes around. It's also quite easy to make! So what is stuffed ziti Fritta? Simply put, it's stuffed pasta that's deep fried in oil or butter until the outside layer becomes crispy and golden brown while the inside layer remains soft and warm.
Key Sub-headings
I'm going to show you how to make stuffed ziti Fritta, an Italian dish that combines delicious ingredients and even more delicious food preparation techniques. Here, I'll take you through what it is, ingredients, and the steps needed to bring this dish together with tips so you can enjoy your own stuffed ziti Fritta in the comfort of your own home, ready to impress friends and family alike!
What is Stuffed Ziti Fritta?
An iconic Italian dish called stuffed ziti fritta is comparable to Chinese stir-fry. A form of pasta called stuffed ziti fritta is deep-fried or baked while being stuffed with cheese, meat, or vegetables. It is a well-known Italian-American casserole made with ziti pasta and a tomato-based Neapolitan sauce.
The ziti pasta is usually cooked separately until almost done but not quite. The ziti is then covered with cheese before being breaded with Italian egg batter and fried till golden brown. This dish can be eaten as an appetizer or as a main course with salad or pasta.
Olive Garden, an Italian-American cuisine-focused American casual dining restaurant chain that is a division of Darden Restaurants, Inc. with its headquarters in Orange County, Florida, is credited with popularizing it. With five different cheeses inside and alfredo and marinara dipping sauces on the side, Olive Garden is recognized for consistently producing their signature crispy fried ziti pasta.
What is stuffed ziti Fritta made of?
According to Olive Garden's recipe, stufed ziti fritta is made of cooked ziti or rigatoni pasta tubes loaded with ricotta, cream cheese, mozzarella, Parmesan, and Romano cheeses before being deep-fried and covered in beaten egg.
What is ziti?
Ziti is an extruded pasta that comes from Campania. It is formed into a 25 cm long, wide tube that must first be manually divided into smaller pieces in order to be cooked. Although much thicker, ziti resembles bucatini in appearance. Most frequently, baked ziti are stuffed.
What cheeses are in the stuffed ziti Fritta at Olive Garden?
The FIVE cheeses are Ricotta Cheese, Mozzarella Cheese, Cream Cheese, Parmesan Cheese and Romano Cheese.
How many calories are in the stuffed ziti Fritta Olive Garden?
There are 500 calories in 1 serving of Olive Garden Stuffed Ziti Fritta.
Recipe Facts
Recipe
:
Stuffed Ziti Fritta Recipe
Category
:
Appetizer
Cuisine
:
Italian
Author
:
LHH Food
Preparation Time
:
Cooking time
:
Ingredients
:
Ingredients list here
Instructions
:
Click to go to process
Servings
:
4
Average rating:

4.9

of 5.0 from

73

reviews
Tags
:
stuffed ziti fritta, stuffed ziti fritta recipe, stuffed ziti fritta food, how to make stuffed ziti fritta, stuffed ziti fritta recipe video, easy method of making stuffed ziti fritta, video on how to prepare stuffed ziti fritta, how to prepare stuffed ziti fritta, stuffed ziti fritta instructions video, stuffed ziti fritta recipe methods, stuffed ziti fritta recipe tips, stuffed ziti fritta recipe pictures, stuffed ziti fritta food photos, stuffed ziti fritta step by step instructions, stuffed ziti fritta cooking methods, stuffed ziti fritta methods, stuffed ziti fritta cooking directions
About
:
Stuffed Ziti Fritta easy recipe from LHH Food. Learn how to make your stuffed ziti fritta from home.
Stuffed Ziti Fritta Ingredients
1/4 cup ricotta
1/4 cup Parmesan & Romano
shredded
1/4 cup cream cheese softened
1/4 cup mozzarella cheese
shredded
1 tbsp basil chopped
2 eggs beaten
1 tbsp Italian seasoning
2 cups Italian breadcrumbs
1/4 cup Parmesan grated
1/2 box Rigatoni or Ziti pasta
1/2 cup vegetable/olive oil
1/4 cup alfredo sauce
1/4 cup marinara or pizza sauce
How to make Stuffed Ziti Fritta step by step
Make the pasta: Bring salted water to a boil in a kettle. Cook the noodles for for 12 minutes after adding them (1-2 min less than box directions). The noodles should be drained, rinsed, and then placed aside to cool.
Cheese filling: Combine Ricotta cheese, parmesan, romano, cream cheese, shredded mozzarella, and chopped basil while the pasta is cooking. Place inside a refrigerator in a ziplock bag.
Stuffing and breading
Combine the beaten eggs and Italian spice in a single bowl. Combine the parmesan cheese and Italian breadcrumbs in a separate bowl.
Take the cheese mixture out of the fridge. Squeeze the cheese mixture into the noodles by snipping the very end of the ziploc bag (or using a piping tool). Put a chopping board underneath each stuffed noodle.
Each stuffed noodle is rolled in the egg wash before being fully coated in the breadcrumb mixture. return the noodles to the chopping board.
Frying
In oil: Pre-heat the oil to 375 degrees Fahrenheit. Noodles that have been stuffed and breaded should be fried for about 3 minutes, turning them over halfway through, or until they are golden brown. Avoid crowding them by keeping them a few inches apart.
In air fryer: In the air fryer, spread out the breaded pasta tubes so that they do not touch. Spray generously with olive oil spray and air fried for 5 minutes at 375 degrees, flipping once. When you flip, spritz with olive oil once more.
Serve with sides of alfredo and marina for dipping.
Recipe Video: How to make Stuffed Ziti Fritta
Video Title:
How to make Stuffed Ziti Fritta
Learn how to make stuffed ziti fritta. This is a video on how to prepare your stuffed ziti fritta.
Useful Tips
Using rigatoni pasta rather than the titular pasta, "ziti," is significantly simpler. Why? Ziti is longer and less wide than riga, making wider and shorter rigatoni easier to stuff.
Take the cream cheese out of the fridge an hour or two before you intend to prepare the dish so that it can soften.
Because boiled pasta is brittle, expect some pieces to shatter when stuffing.
To firm up the cheese, freeze the stuffed pasta for 30 minutes before frying. By including this stage, less will leak out of the process.
Make sure to soften the cream cheese before mixing it with other ingredients.
Stuffed Ziti Fritta pictures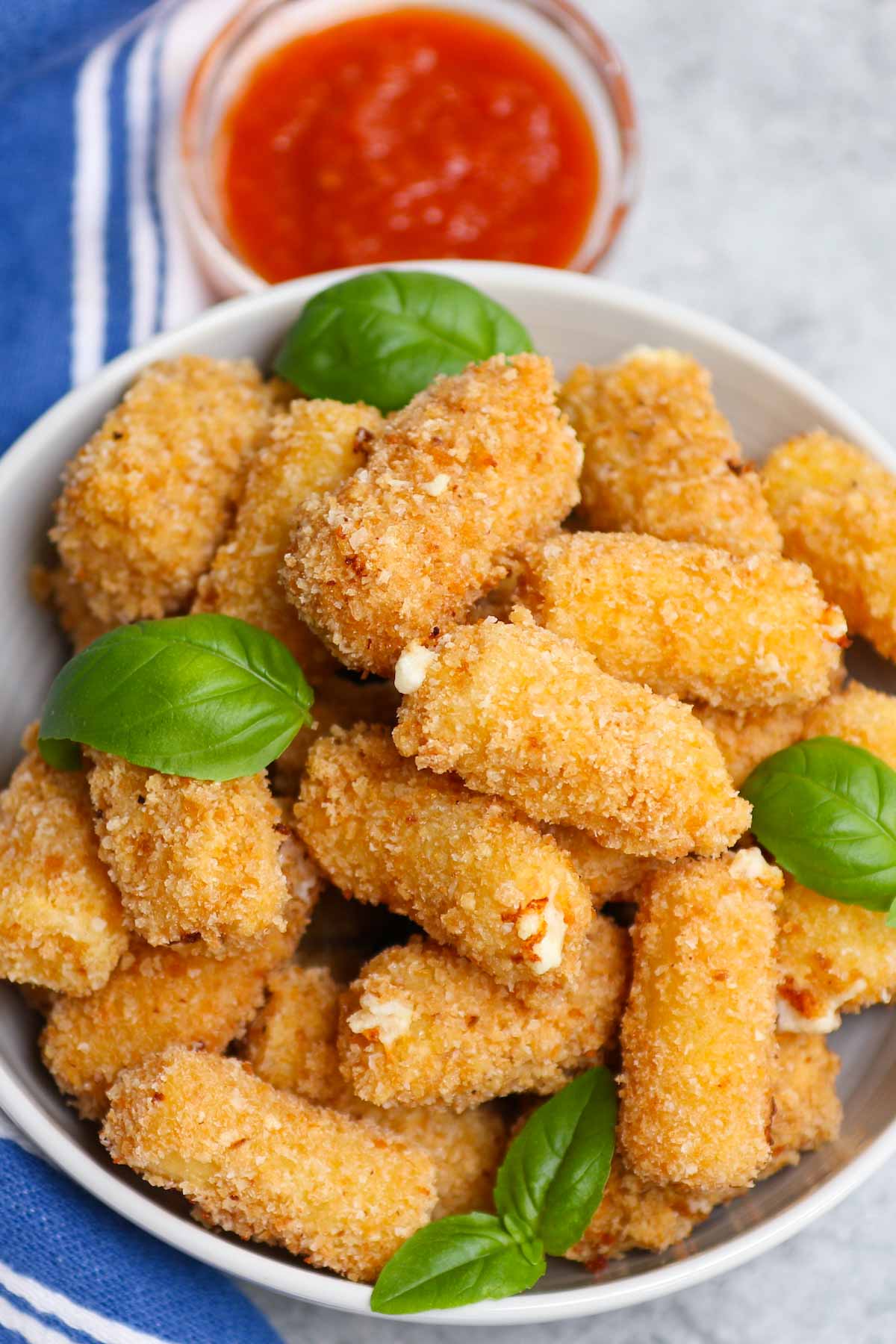 Stuffed ziti fritta, endnote
How many of you have heard of stuffed ziti Fritta? Me, neither! But I was intrigued when my friend told me she made it for dinner the other night, so I asked her to send me the recipe so I could try it out. This dish combines two great Italian foods-stuffed ziti and fried ravioli-in one dish that you'll want to make again and again! Here's how to make stuffed ziti Fritta.