Career
2023/2024 Tetra Maritime Graduate Trainee Programme (Nigerians Only)
Tetra Maritime Graduate Trainee Programme. Are you a recent graduate from Nigeria hoping to launch a career in the marine sector? Look nowhere else! Young and bright Nigerians have an exceptional opportunity to embark on a transformative journey toward a successful career in the maritime industry with the Tetra Maritime Graduate Trainee Programme 2023.
We will delve into the specifics of this esteemed program in this detailed guide, emphasizing its advantages, application procedure, and frequently asked questions (FAQs). Learn how Tetra Maritime is empowering graduates in Nigeria and advancing them toward a better future.
SCHOLARSHIPS OVERVIEW
Tetra Maritime is a local vessel owner and operator that offers complete, individualized solutions for every stage of the oil and gas supply chain, from upstream to downstream.
The 12-month Graduate Trainee Program is created to give recent graduates the chance to expand their education, develop the necessary leadership skills, and accomplish their career goals.
KEY BENEFITS OF THE TETRA MARITIME GRADUATE TRAINEE PROGRAMME:
A structured and comprehensive training curriculum: Building a strong foundation for success.
Mentorship and guidance from industry experts: Gaining valuable insights and networking opportunities.
Practical hands-on experience: Developing essential skills through real-world projects.
Personal and professional growth: Cultivating leadership qualities and enhancing employability.
Career opportunities and progression: Opening doors to a wide range of maritime roles.
REQUIREMENTS 
1. A minimum of a second-class upper division from a recognized university
2. Bachelors degree
3. A minimum of 5 O LEVEL CREDITS (including English and Mathematics)
4. Must have completed NYSC
5. Excellent research and writing skills
6. Collaboration skills and presentation skills
7. Digital skills Vacancy Type: Full Time Location: 25b Marine RD, GRA, Apapa, Lagos, Nigeria
HOW TO APPLY: 
Interested and qualified candidates should send their cover letters and resume to: careers@tetramaritime.com or Click Here to apply online.
See Official publication below!!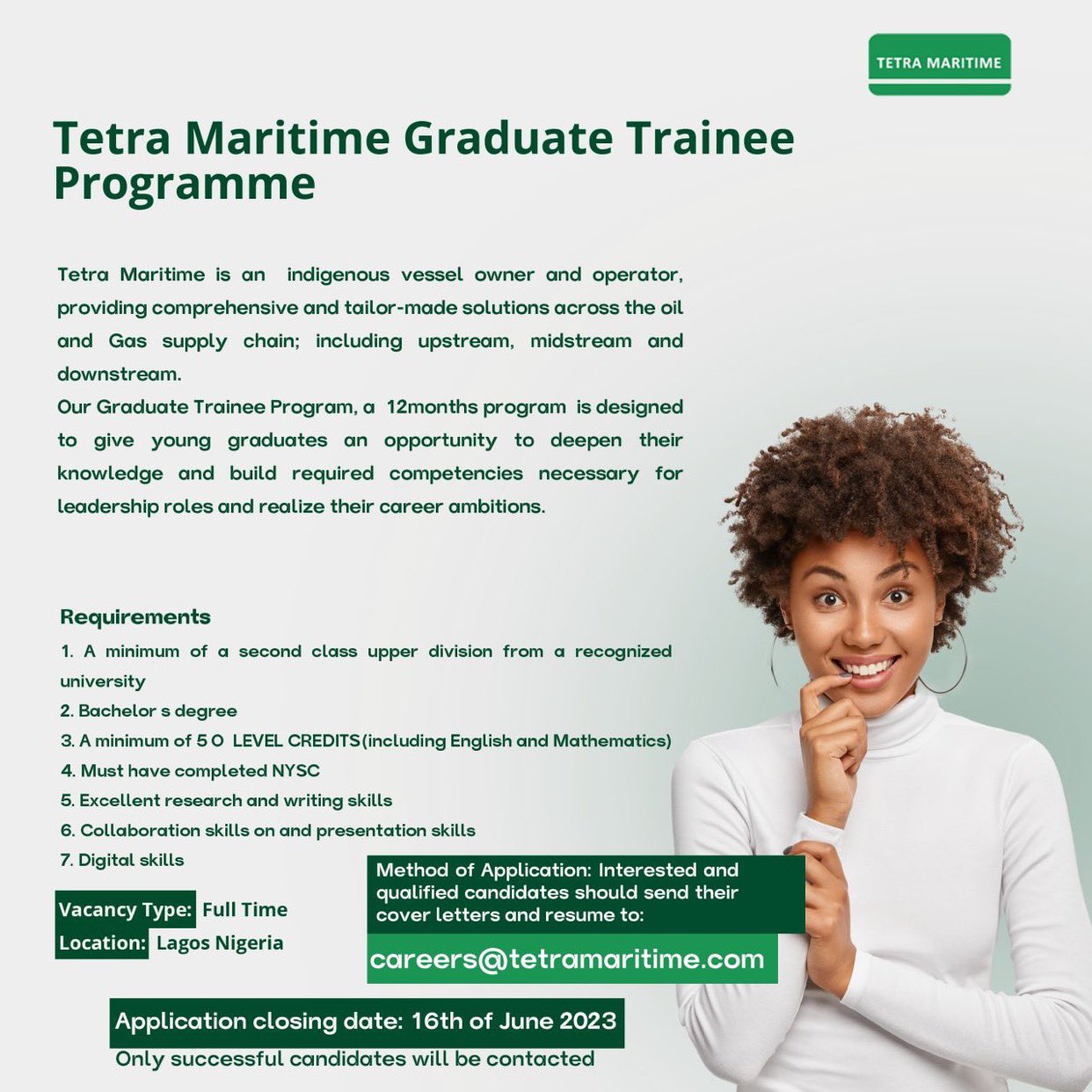 Share this with at least three people who you think can benefit from it.
Please leave your questions in the comment section below.