Spicy food lovers, rejoice! The Schezuan region of China has long been known for its tantalizingly hot cuisine, and you can easily bring that heat to your own kitchen with this recipe from the World Food Traveler.
Looking to spice up your food? Try this delicious Schezuan recipe for an extra kick of heat in your meal.
What is Schezuan – Schezwan Sauce?
When describing Chinese sauce, the term "schezuan" is frequently used. This spicy sauce is well-known in Chinese cuisine as a cooking staple. Schezuan sauce is a spicy sauce famous in China's Szechuan province. It is produced with a chilli paste mixed with vinegar, sugar, and garlic. The sauce is highly spicy and fiery, and it is used as a condiment with a variety of foods.
The traditional dishes of Sichuan cuisine are highly hot, spicy, and fragrant. Because it is a hybrid version developed by Chinese immigrants in India, this schezwan sauce has been toned down to suit the Indian palate. It has strong characteristics, such as pungency and spiciness from the usage of garlic and chili peppers, as well as the peculiar flavor of Sichuan pepper. There are several local variations within Sichuan Province and the neighboring Chongqing Municipality, which was part of Sichuan Province until 1997. Sichuan cuisine is divided into four sub-styles: Chongqing, Chengdu, Zigong, and Buddhist vegetarian sauce.
Schezuan sauce is a red chili garlic sauce that can also be used as a dip. It can be made ahead of time and frozen in an airtight container for up to a month. Although store-bought sauces are generally available, a homemade sauce has a more vibrant flavor.
Add it to noodles, fried rice, or grilled chicken for a real kick. You may use it as a condiment with pakoras, vadas, and sandwiches, or simply spread it on toasted bread for a spicy hot treat. It's great for kebabs, tandoori chicken, sizzlers, and other grilled dishes.
Schezuan Recipe
Recipe
:
Schezuan Recipe (Schezuan Sauce)
Category
:
Soup
Cuisine
:
Indo-Chinese
Author
:
LHH Food
Preparation Time
:
Cooking time
:
Servings
:
7
Average rating:

4.8

of 5.0 from

40

reviews
Tags
:
sichuan, schezuan, schezwan, schezuan recipe, schezuan sauce, how to make schezuan, schezuan recipe video, easy method of making schezuan, video on how to prepare schezuan, how to prepare schezuan, schezuan instructions video, schezuan recipe methods, schezuan recipe tips, schezuan recipe pictures, schezuan sauce photos, schezuan step by step instructions, schezuan cooking methods, schezuan methods, schezuan cooking directions
About
:
Schezuan recipe guide. Schezwan sauce is a spicy and hot Chinese chili sauce which is used in many fusion Indo Chinese dishes. It's spicy, slightly sweet, slightly tangy in taste.
Schezuan Ingredients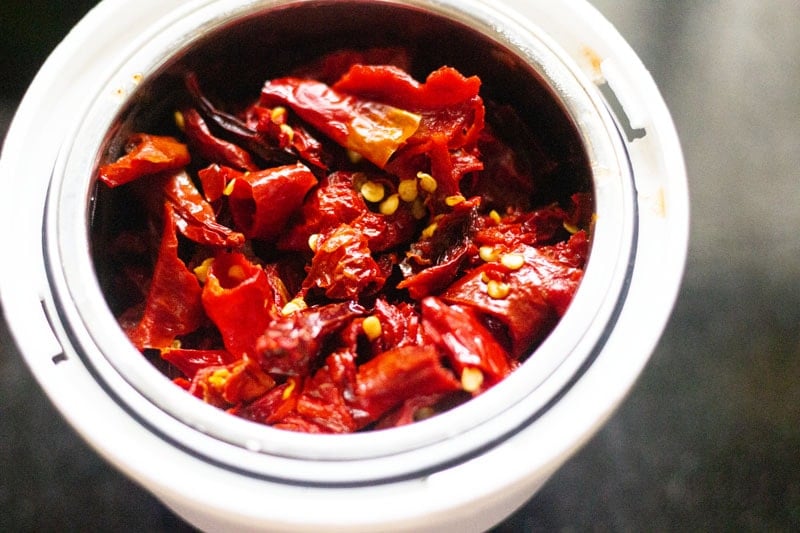 1 teaspoon sesame oil

2 teaspoons yellow mustard seeds

4 cloves garlic, minced

1 small shallots, finely chopped (optional)

2 tablespoons soy sauce, sodium reduced

1 chili peppers finely chopped

1 ½ cups tomato juice

½ teaspoons white pepper

½teaspoons cumin ground

2 teaspoons cornstarch

1 black pepper
Schezuan recipe
Soak the chillies in a bowl of boiling water for a few minutes.

After about an hour, remove the chilies and drain the water, then set it aside. Cut the chillies and add them to the mixer after that. Pour in a tiny bit of the water used to soak the chiles before.

In a small skillet, sauté the garlic, hot pepper, shallot, and mustard seed in the oil until the garlic and shallots brown and the mustard seeds explode (over high heat, but not to the point of burning the oil).

In a mixing dish, combine the tomato juice, tamari, white pepper, and cumin.

Reduce the heat to low and continue to cook for another 5 minutes.

In a small cup, whisk together 2 tablespoons cold water and cornstarch until smooth.

Continually stir into the sauce.

The sauce should thicken in a minute or two.

Remove it from the fire and add it to your favorite dish.
Schezuan sauce pictures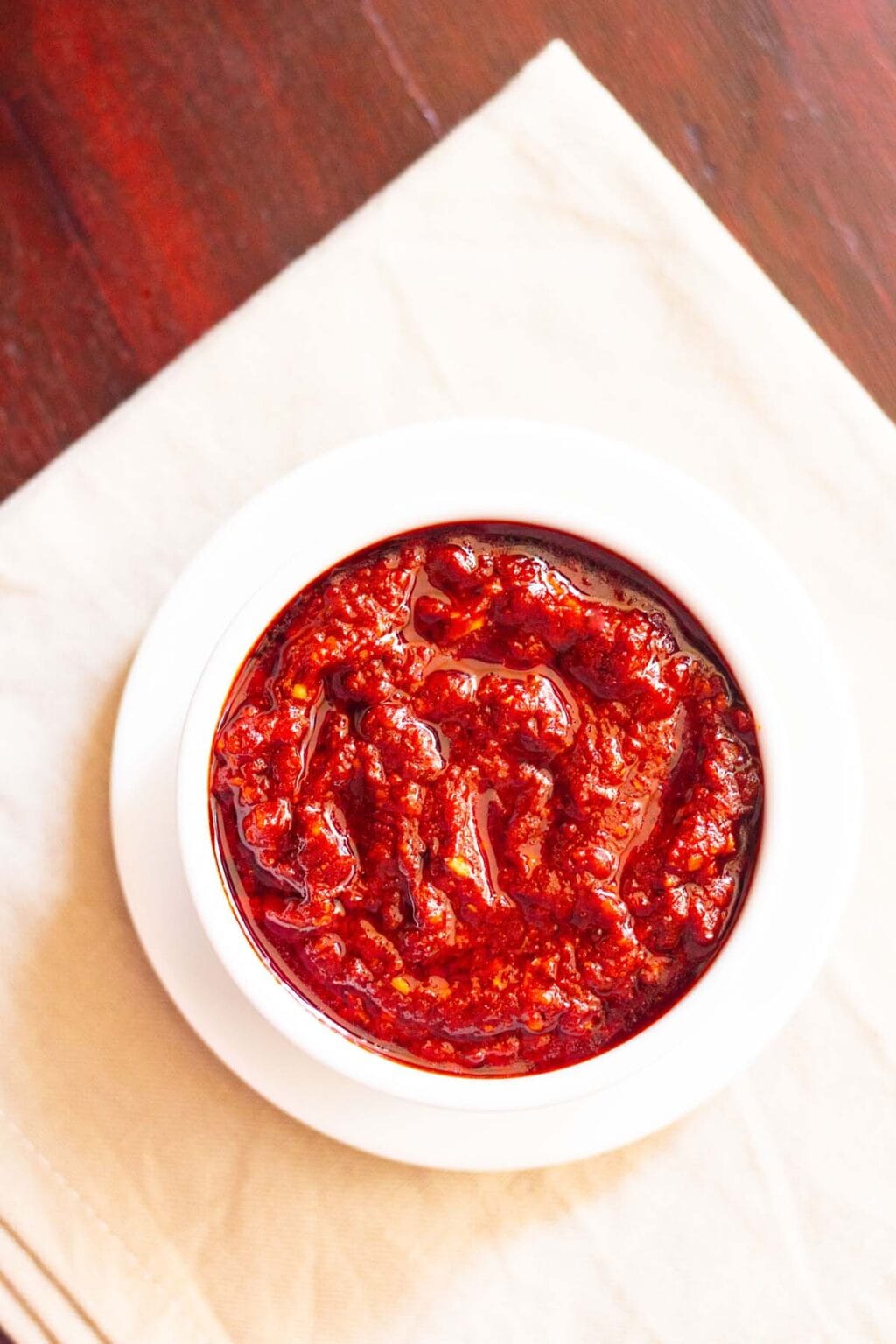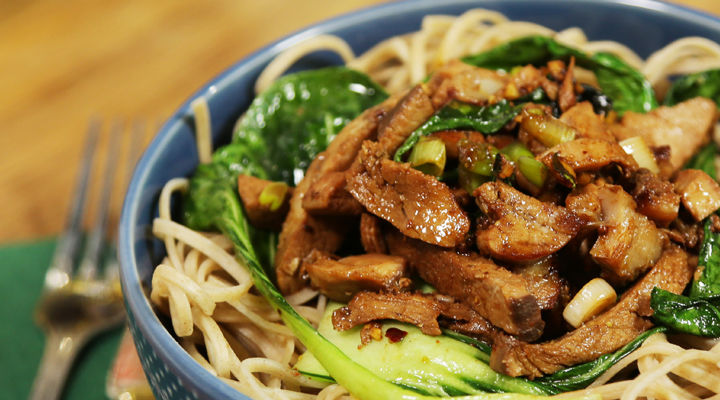 Recipe Video
Video Title:
How to make Schezuan
Learn how to make schezuan. Schezwan sauce is a spicy and hot Chinese chili sauce which is used in many fusion Indo Chinese dishes. It's spicy, slightly sweet, slightly tangy in taste. This is a video on how to prepare fantastic schezuan.
Conclusion
Learn how to make Schezuan, the classic Szechuan spicy recipe with authentic ingredients and perfect balance of flavors in this simple tutorial. After you try it, you'll wonder why it took you so long to add Schezuan to your menu!