Career
Link To Apply For 2023 Polaris Graduate Trainee Programme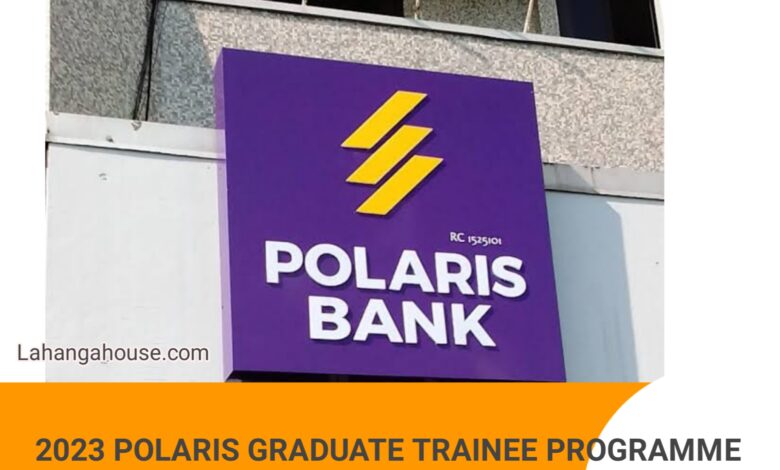 2023 Polaris Graduate Trainee Programme. Recent graduates have an incredible opportunity to start their careers on a successful trajectory with the 2023 Polaris Graduate Trainee Program. Participants acquire priceless skills and experiences through in-depth training, rotational assignments, and mentorship from business professionals.
The highly coveted 2023 Polaris Graduate Trainee Programme was created to cultivate and develop young talent by giving them substantial instruction and practical experience in their respective disciplines. As a trainee, you will have the chance to work with seasoned professionals, obtain insightful knowledge of the industry, and develop the abilities necessary to succeed in a cutthroat business environment.
Eligibility Criteria
Minimum of a B.Sc (2nd Class) or HND (Upper Credit) in any discipline.
Must have completed NYSC and awarded a discharge certificate.
Possess Five (5) 'Level Credits that include English and Mathematics at not more than 1 sitting; WAEC or NECO Certificate is required.
Age not more than 25 years old by December 31, 2023. (National Population Birth Certificate required, Declaration of Age is not acceptable).
HOW TO APPLY
To apply for the Polaris Graduate Trainee Programme Recruitment visit www.dragnetscreening.ng/ and navigate to the dedicated application page. Follow the instructions, submit the required documents, and provide detailed information about your qualifications, experiences, and aspirations.
Share this with at least three people who you think can benefit from it.
Please leave your questions in the comment section below.