Career
Apply: 2023 Olam Agri Graduate Trainee Programme Application Form Portal
The Olam Agri Graduate Trainee Programme 2023 offers a transformative experience for aspiring agricultural professionals. By participating in this programme, you will gain the knowledge, skills, and network necessary to excel in the agricultural industry. In this article, we will delve into the details of the Graduate Trainee Programme, its benefits, and how it can shape your professional journey.
Seize this opportunity to embark on a rewarding career journey and contribute to sustainable agriculture.
FEATURES AND BENEFITS
1. The programme provides participants with a robust training curriculum, combining theoretical knowledge with practical hands-on experience. From crop cultivation techniques to supply chain management, you will gain a holistic understanding of the agricultural value chain.
2. Throughout the programme, you will receive guidance and mentorship from seasoned professionals in the agricultural industry. They will share their expertise, insights, and best practices, helping you develop the skills necessary to excel in your career.
3. As a participant in the Agri Graduate Trainee Programme, you will connect with a network of like-minded individuals, including fellow trainees, mentors, and industry leaders. This network will prove invaluable throughout your career, offering opportunities for collaboration, knowledge sharing, and professional growth.
ELIGIBILITY
The Olam Agri Graduate Trainee Programme is open to Applicants who are passionate for excellence with an appetite for learning in new environments. The Graduate Trainee Programme
Opportunities exist for young and smart trainees in the following areas:
Procurement
Safety
MIS/IT
Human Resources
Sales
HOW TO APPLY
To apply for the Olam Agri Graduate Trainee Programme , visit https://e-recruiter.ng/portal/olamgtp and navigate to the dedicated application page. Follow the instructions, submit the required documents, and provide detailed information about your qualifications, experiences, and aspirations.
See Official publication below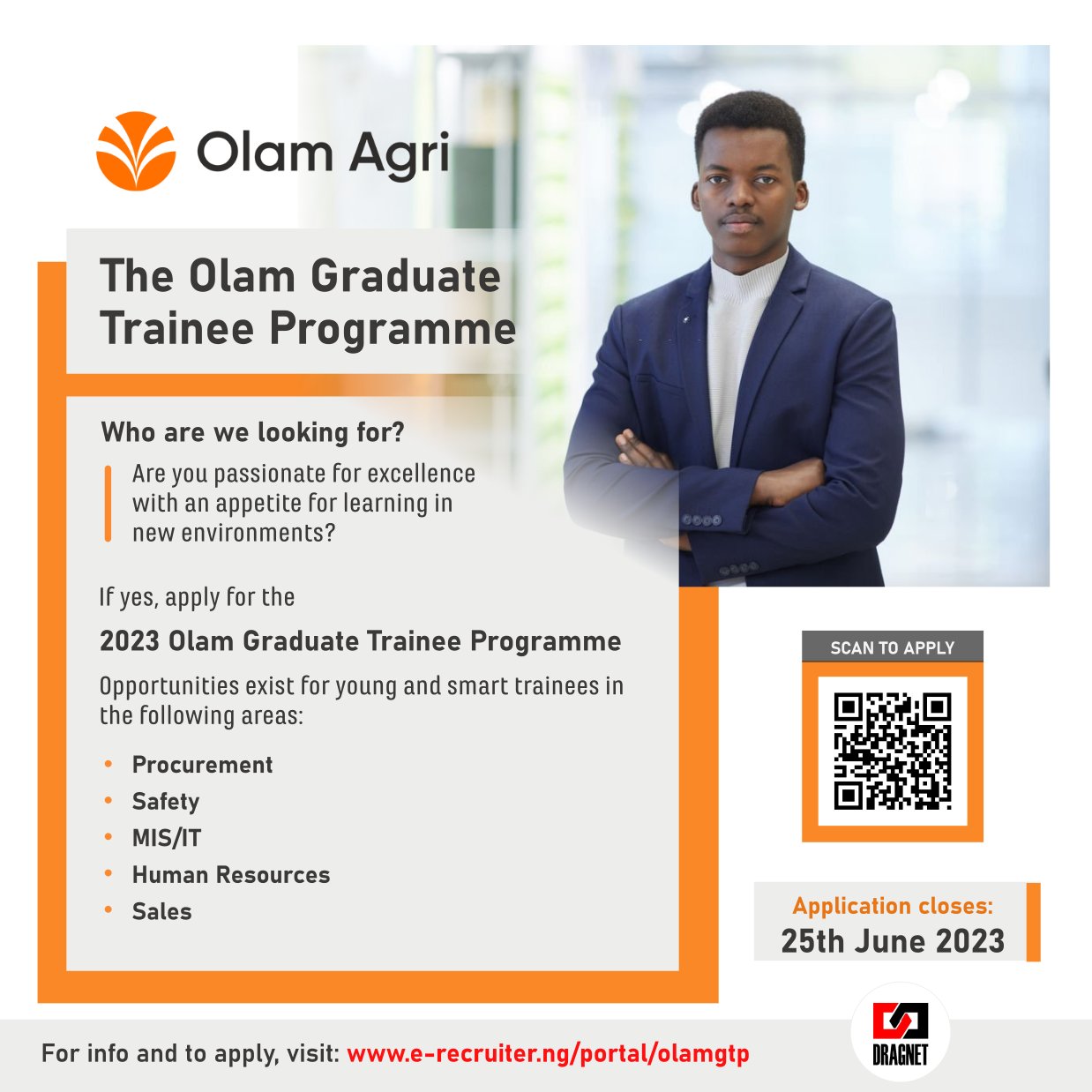 Share this with at least three people who you think can benefit from it.
Please leave your questions in the comment section below.