Career
MTN ICT And Business Skills Training Application
Application for ICT and business skills training from MTN. The MTN Foundation Youth Empowerment Skills Training project aims to increase young people's capacity in the areas of ICT and entrepreneurial skills.
The Enugu/MTN ICT and Business Skills Training is being launched by Enugu SME in collaboration with the MTN Foundation, Meta, Microsoft, and Capitis Global Ventures Ltd.
Young Enugu entrepreneurs between the ages of 18 and 35 are the target audience for the MTN ICT and Business Skills Training program, which aims to provide them with the tech-enabled skills necessary to maintain their small businesses competitive and relevant. The training will be delivered online over the course of a 5-week program, and it will include masterclasses from influential business leaders. MTN Nigeria Chenosis Graduate Trainee Program
Microsoft will instruct attendees at the "Entrepreneurship in the Digital Age, ICT for Business Success" session on how to use their new Generative A/ abilities. Throughout their two-week program, a facilitator will train them online for an hour and a half to two hours. It will be delivered utilizing a blended learning approach that mixes instructor-led sessions and self-paced learning (participants will study material provided by the facilitators). Microsolt would be introduced in daily lectures during their two-week training.
Participants will receive training from Meta – in "Skills to Build Brands and Grow Businesses Online" through their Met Boost Small Business Studios.
MTN ICT AND BUSINESS SKILLS TRAINING APPLICATION REQUIREMENTS:
Lives in enugu
18-35 years
Own a business
More than 2 years old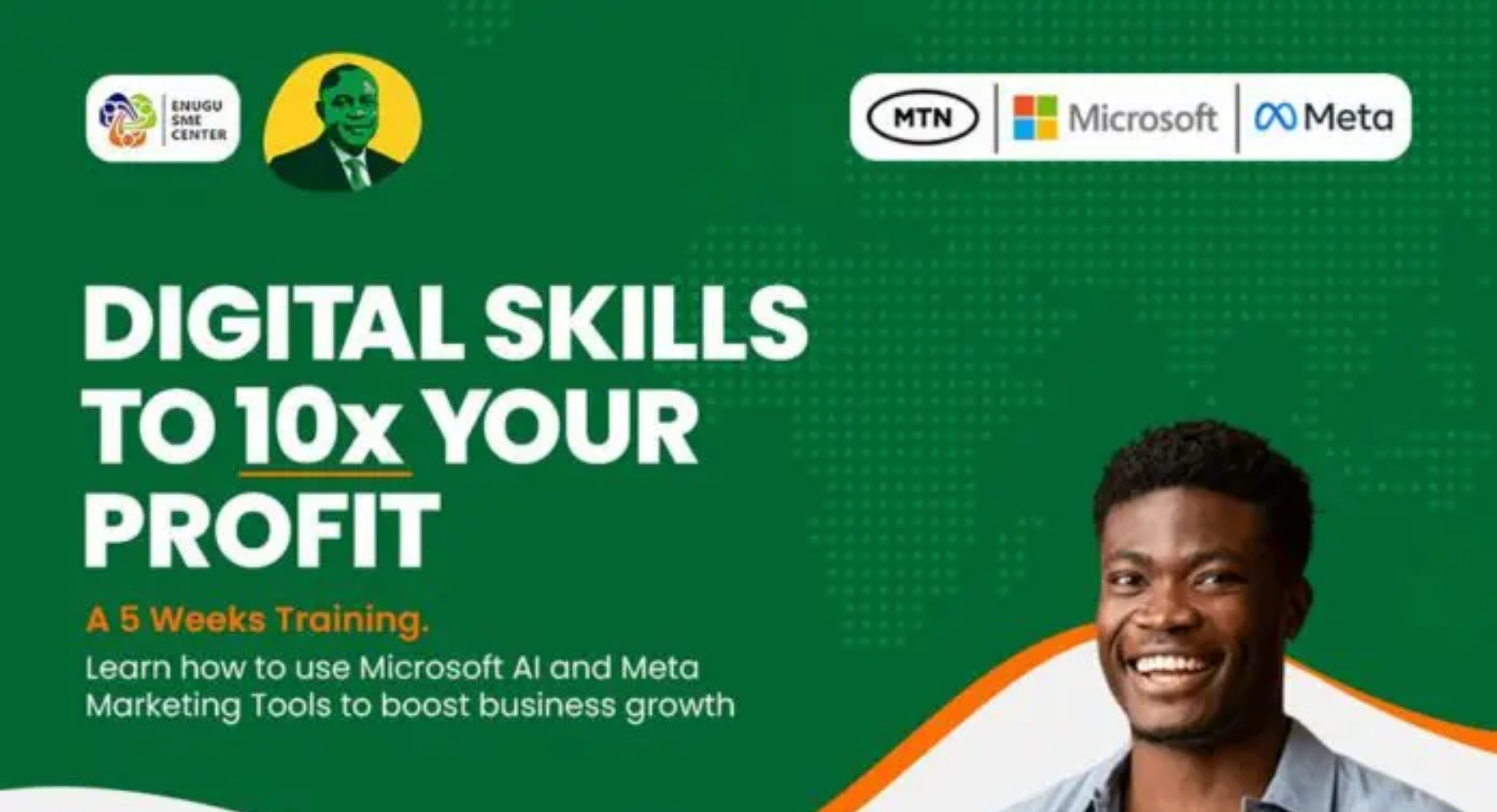 How To Apply:
To apply visit https://www.enugusme.en.gov.ng/EMTN/ and navigate to the dedicated application page. Follow the instructions, submit the required documents, and provide detailed information about your qualifications, experiences, and aspirations. Click Here
Share this with at least three individuals you believe will find it useful.
Please leave your questions in the comment section below.