Career
Link To Apply for GTB Internship Programme Application (OND and Pre-NYSC)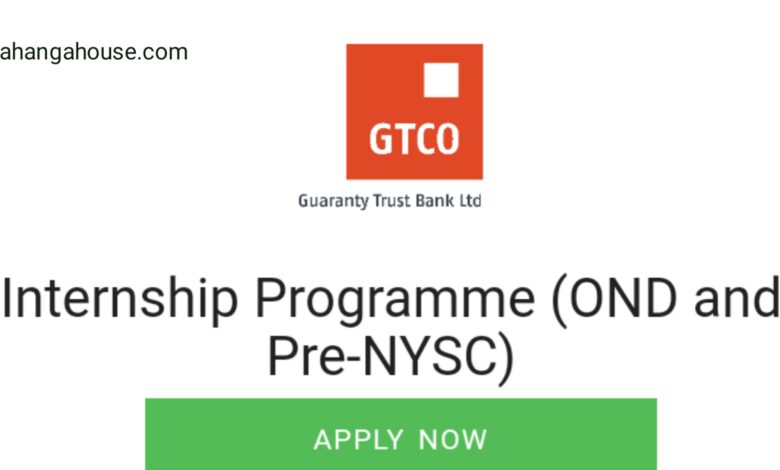 GTB Internship Programme Application. Through assisting the daily operations of our Transaction Services team and studying best-in-class banking processes and procedures, the Internship Program provides OND graduates and Pre-NYSC applicants with the chance to get industry experience and on-the-job training in banking operations. A career in banking can be started and future professional skills can be developed through the internship program.
Guaranty Trust Bank may be the ideal place for you to work if you want to be at a place where learning is encouraged, talents are fostered, and passion is rewarded. Learn more about graduate, internship, and specialized opportunities by exploring the sections below.
REQUIREMENTS BELOW:
Job Type:
   OND/Pre NYSC Internship

Location:
    Our unique branches nationwide

COMPETENCIES/SKILLS
Good communication skills

Basic numerical skills

Willingness to learn

GTB INTERNSHIP PROGRAMME APPLICATION REQUIREMENTS
One-year industrial attachment letter from a polytechnic

WAEC/NECO certificate

Birth certificate

School Identity card

Guarantor(s)*

GTBank – 1 Guarantor (Full-time employees only)
Other Organisations – 2 Guarantors (Full-time employees only)
HOW TO APPLY 
To apply for the Olam Agri Graduate Trainee Programme visit https://gtbank.zohorecruit.com/recruit/Portal and navigate to the dedicated application page. Follow the instructions, submit the required documents, and provide detailed information about your qualifications, experiences, and aspirations.
Share this with at least three people who you think can benefit from it.
Please leave your questions in the comment section below.