Cuernitos are the perfect crunchy salty snack to enjoy with your margarita or beer, and you can even have them at breakfast along with your favorite eggs. In Mexico, they're also known as cueritos (which translates as little piglets), and every Mexican family has their own recipe that they take pride in and share with friends and family members alike. It's so easy to make these tasty treats at home that there's no reason to buy them from the store ever again – here's how to make cueritos!
What are Cueritos?
Cueritos are pickled thin pieces of uncooked pig skin seasoned with regional flavors. These can be used in beans, tostadas, and tacos.
Cuerito (pork rind) is a type of pig skin found in Mexican, Venezuelan, and Spanish cuisines. In Spanish, cuero refers to leather or skin, hence cueritos means "little leathers." They can be eaten with a spicy sauce or pickled with vinegar. Season the vinegar with pineapple, dulce macho (piloncillo), cloves, peppercorns, chile de árbol, and oregano.
Pickling distinguishes cueritos from chicharrón, which is fried pork skin. A chicharrón is a rind with adhering fat in Spain, whereas a cuerito is a rind without fat. Chicharrón, on the other hand, is pig skin that has been fried to a crisp in the southern regions of Mexico, similar to cracklings, while cueritos is soft, deep fat fried pig skin that has been diced and used for tacos.
Meanwhile, pickled vegetables such as potatoes, carrots, onion, nopales (cactus), jicama, peanuts, and pickled pigskins and pigs foot are referred to as encurtidos.
The vinegar or pickling liquid used to cure the vegetables or pigskins is known as en vinagre. The pineapple and dulce macho (called piloncillo) vinagre is seasoned with whole cloves, peppercorns, chile de arbol, and a smidgeon of oregano.
The Cueritos are the most popular of the Encurtidos (pigskins). Cuerito Grueso and Cuerito Delgado are the two types of Cueritos en Vinagre offered.
Further, this antojito, as bizarre as it may sound, has addictive properties comparable to those seen in illegal narcotics. Raw uncured cueritos are blended with mixed pork meat or "maciza" in deep fat fried carnitas to add extra thick, stick-in-your-teeth richness to your tacos.
However, you'll need clean jars with lids, vinegar, pickling mix, and seasonings. A meat pickling mix like Prague powder contains salt, sodium nitrate, and sodium nitrite. You can also manufacture your own by combining 1 quart of water, 2 teaspoons of salt, and less than 1/4 teaspoon potassium nitrate in a small bowl. To flavor your cueritos, you'll need vinegar, as well as sliced onion, dried or fresh chiles, and spices like coriander and thyme. Carrot slices can be added for a touch of sweetness and color.
Cueritos Recipe
Recipe
:
Cueritos Recipe
Category
:
Appetizers
Cuisine
:
Mexican
Author
:
LHH Food
Preparation Time
:
Cooking time
:
Ingredients
:
Ingredients list here
Instructions
:
Click to go to process
Servings
:
4
Average rating:

4.9

of 5.0 from

414

reviews
Tags
:
cueritos, cueritos recipe, how to make cueritos, cueritin. english, recipe video, easy method of making cueritos, video on how to prepare cueritos, how to prepare cueritos, cueritos instructions video, cueritos recipe methods, cueritos recipe tips, cueritos recipe pictures, cueritos food photos, cueritos step by step making, cueritos cooking methods, cueritos methods, cueritos cooking directions
About
:
Cueritos recipe guide. Cuerito is pig skin from Mexican cuisine. Learn how to make your authentic food, cueritos.
Cueritos Ingredients
1 can cueritos or 2 lb of pork skin

3 Garlic cloves

3 bay leaves

Vinegar of choice

2 tsp of peppercorns

2 medium tomatoes

1 large red Onion

1 pinch cilandro

Green beans

3 small carrots

3 lemons

3 tbsp olive oil

Salt, to taste

2 Avacado
How to make Cueritos step by step
Rinse the cueritos and arrange them in a bowl after thoroughly washing the pig skin under cold running water.

In a medium-sized pot over medium heat, bring the water to a boil. Cooking time should be 30 minutes.

Drain and discard the water, then wash the rinds thoroughly in cold water before chopping them into small pieces.

Return the pork skins to the pot, covered in water. + 2 bay leaves and 1 garlic clove, plus 2 cups vinegar, 1 tablespoon salt, 2 bay leaves, and 1 garlic clove

Over medium heat, cook the cueritos until they are completely soft.

Drain and discard the cooking water, then rinse and put the pork skins in a large glass with cold water.

[Optional] Heat the olive oil in a sauté pan over medium heat. In a large mixing bowl, combine the onions, carrots, chiles, garlic cloves, bay leaves, and peppercorns. Cook for another 2 minutes, or until the vegetables soften.

Remove pan from heat and add 1 cup vinegar, salt, and oregano, if desired. Set aside until the mixture has reached room temperature after properly mixing.

Toss the diced tomatoes, onion, and cilandro into the Cueritos bowl.

Combine all of the ingredients, then add the lemons and avacados.

In a mixing bowl, combine the vegetables and cooked pork skins. After adding salt and thoroughly mixing, cover with cling film. Allow at least one night for cueritos to rest.

Serve on tostadas with crema and, if desired, salso Valentina or jalapeos.
In Mexico, cueritos are commonly used to garnish various dishes such as dorado tacos, tostadas, sopes, and enchiladas. It's also typically served as a botana (appetizer), topped with Valentina salsa and lime juice. They're the perfect match for Micheladas.
Cueritos dish images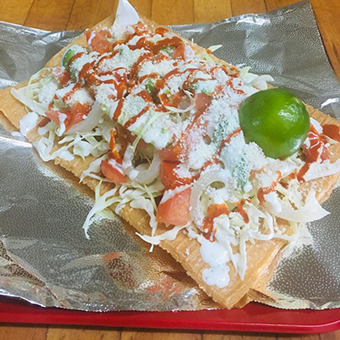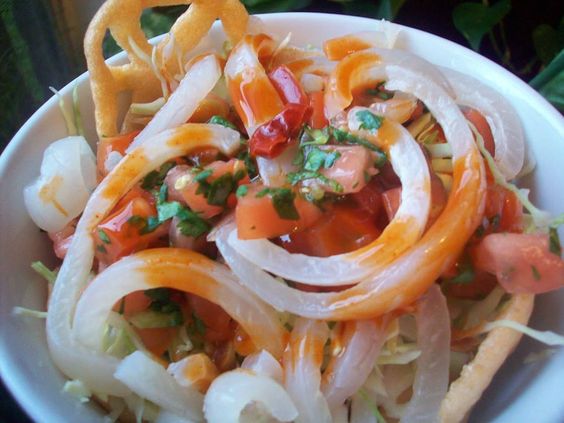 Video on How to make Cueritos
Video Title:
How to make Cueritos
Learn how to make cueritos. Cuerito is pig skin from Mexican cuisine, Venezuelan cuisine and Spanish cuisine. This is a video on how to prepare fantastic cueritos.
Conclusion
Chicharrones, or fried pork rinds, are a crisp and crunchy guilty pleasure familiar to Mexican food fans. However, deep frying isn't the only method to participate in the nose-to-tail culinary fad, which involves using all parts of a tasty porker. Cueritos are a tangy, silky smooth strip of pickled pork rind that is a fresh and exotic way to savor everything except the oink.